FIRST WAVE TESTER AM & PM lesson start times (courtesy transport included)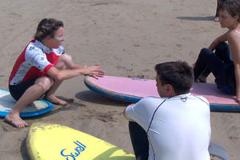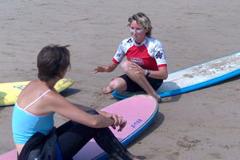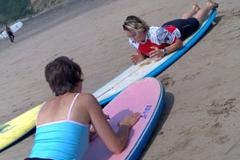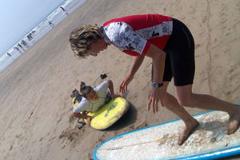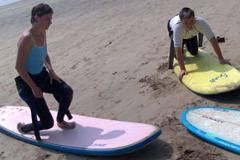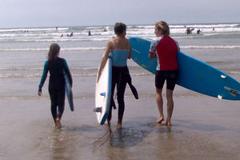 Duration: 2 Hours (approx.)
Product code: CROFWT
FIRST WAVE TESTER Two Hour Surf Lesson with morning and afternoon start times

Meet at the Walking On Waves shop half an hour before your lesson start time.

(Courtesy transport to and from surf beaches, for all participants, is included at no extra cost)
6 steps lesson instructions
First we go through the safety talk on the beach where we cover the flag systems used by the lifeguards, dangerous currents and how to avoid problems in the sea and you will also be shown what you need to know if you ever get into trouble in the sea.
I will then explain the basic parts of the board you need to know and how to hold the board whilst trying to get out through the white water waves which you will be looking to catch.
Next we go through how to lie on your board and how to paddle into waves and the timing involved in catching them.
The next stage is finding out which way each individual is comfortable standing up on the board (either left foot forward or right foot forward). Once that is decided I show you the correct way to stand on the surfboard when you ride the waves.
At this point I demonstrate the techniques for standing up on the board from the prone position. There are a few ways of doing this. Those of you who might not be quite a agile as others, don't be put off! I have some cunning plans-it's not as hard as it looks.
Last we go through a safety reminder and then head off into the surf, where I circulate around the group, helping and guiding you by explaining what you are doing right and wrong.
Children aged under 10 to be accompanied by adult.
Hooked? If you'd like any advice on purchasing a surfboard and/or wetsuit, speak to Sarah after your lesson